While Cake Design images are flooding social networks, Cake O'Clock Paris intends to prove that it is now possible to combine the beauty of these colorful cakes with the authentic flavors, synonymous with French cake design. Interview with Jana and Jananithe founders of the company.
Can you tell us more about your company and cake design?
Cake O'Clock Paris is a cake design company that we created in 2019. Directly from the USA, this very colorful and very "instagrammable" pastry allows you to create customized cakes according to orders and very specific customer requirements, for all kinds of occasions (parties, weddings, birthdays, baby showers).
Originally, however, our backgrounds were quite far from this universe, since I went to business school, and Jana went to multimedia engineering school. On the other hand, both of us already had a strong taste for the world of entrepreneurship, which made it easier to launch our business after I fell in love with this type of pastry during a training session.
Almost four years after the creation of Cake O'Clock Paris, has this Cake Design business succeeded?
yes ! And even when the health crisis arrived, many birthday parties had to be cancelled, people still wanted a cake worthy of the name to be delivered so that they could honor the event as it should. Some clients also wanted to have customized cakes delivered to their loved ones on their own in Paris. This allowed us to be able to rapidly grow our activity by responding to such strong demand.
Strong demand among which we find many celebrities.
In fact, we had the opportunity to make cupcakes for characters like Norman and Ennis Rig or even situations for Lena, who also had to stay cooped up in their homes; After that we stayed in that momentum and thus were able to work with more than 70 celebrities such as Gims, Eva Longoria, Karim Benzema, Iris Mittenaere and Nabilla. This success has also enabled us to work with major organizations such as LVMH, Sony Music, Warner Bros, mainstream media such as TF1 or even the "Touche Pas à Mon Poste" program on C8, which we are still partners in making. cake.
Faced with this success, Cake O'Clock Paris has moved from a 30m2 laboratory to premises of over 250m2 today, located in the Paris region of Val d'Oise. We deliver mainly in Ile-de-France and within 2 hours around Paris, but we can also deliver our cakes all over France if requested by a customer.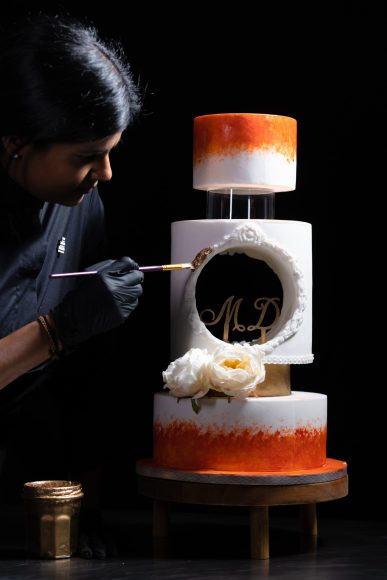 More specifically, how can you stand out in today's cake design market?
In France, Cake Design can still sometimes suffer from a bad reputation. Coming from the United States, this cake is seen as a calorie-dense cake and not necessarily very tasty, although in France pastries are often synonymous with refined flavours.
So we gradually try to deconstruct this image, by offering our own cake designs that are both beautiful and good, by working on fruity recipes that are savory and light; And that we want to introduce as many people as possible.
Have you just opened a franchise in Dubai?
In fact, after opening franchises in London and Montreal, we just launched a third franchise in Dubai in mid-October. This country of excess can really be very demanding in terms of custom cake design.
Going from a small 30 square meter lab to a facility in four different countries is a real source of pride for us. For the coming months, we already have some great new projects in the works!
Faced with the success of their business, Cake O'Clock Paris managers now wish Continuing to develop their business, both in France and around the world, in order to introduce as many people as possible to the riches of their famous colorful pastries. Fully tailored cake designs which can then be designed from a very specific theme, according to each client's wishes.
Cake O'Clock Paris Instagram page