Philosophy | Bank of America (BofA) believes in the power of the arts to help economies thrive, to educate and enrich communities, and to create greater cultural understanding. This year, the BofA has decided to support 19 major international projects, including part of the restoration of Notre Dame de Paris. Interview with Brian Siegel, Executive Director of Arts and World Heritage at Bank of America
Why does Bank of America support art restoration?
Brian Siegel: At Bank of America, we believe the arts strengthen human connections and contribute to greater cultural understanding. Art strengthens our communities by providing a space for diverse expression and thus has a positive impact on the lives of our customers and employees. Arts support Bank of America Covering a wide range of local and global nonprofits, they help us explore the creativity, complexity, and collaborative spirit of the world around us.
Thank us Art Preservation ProjectWe provide grants to institutions around the world to preserve works of art of historical or cultural significance that are in danger of deterioration. Our support of Notre Dame in Paris is an excellent example of our approach.
© Photo courtesy of "Friends of Notre Dame de Paris"
Every year, we receive many requests for business maintenance financial support from organizations around the world, highlighting the huge need for maintenance and restoration support. This is why we have always encouraged collaboration between the public and private sectors. We are now one of the leading arts support companies in the world and are proud to help institutions preserve their heritage for future generations.
Since 2010, our art preservation project has supported more than 200 projects in 39 countries representing thousands of works from different art movements, different periods and, above all, different cultures. All of these works have one thing in common: they reflect the creativity, ingenuity, and passion shared by people around the world for hundreds, if not thousands, of years.
for us The Artworks Preservation Project is only part of an unwavering global approach to supporting cultural institutions These include grants, exhibition support, and creative education programs. We also sometimes loan works from our private collection to complete or create an entire exhibition free of charge.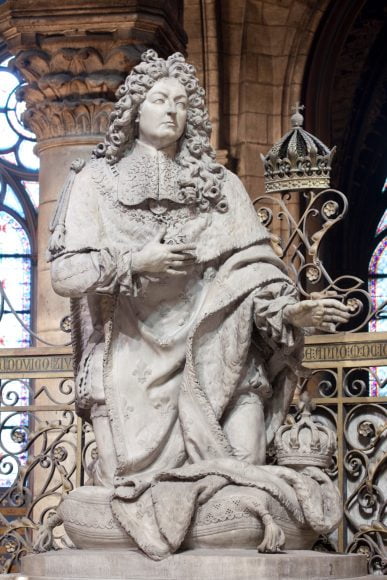 © Photo courtesy of "Friends of Notre Dame de Paris"
What is the aim of the BofA Arts Preservation Project? Who are the beneficiaries of the 2022 grants?
SB: Since its launch in 2010, our Art Preservation Works project has contributed to the preservation of more than 6,000 individual objects, including paintings, sculptures, artifacts, and architecture of great importance to cultural heritage and art history. In France, our first grant under this program was awarded to the Louvre Museum in 2010 for the restoration of the Louvre Museum Samothrace victory.
Parmi les laureats 2022 figure nt 19 grands projets internationaux représentant un large éventail de disciplines artistiques, de styles and de traditions culturelles in France, in Australie, in Espagne, aux États-Unis, au Ghana, en Ireland, au Mexico, au Nigeria and au United kingdom. For example, we have a project at the Brooklyn Museum that involves preserving the Golden Book of the Dead, a 6.4-meter-long papyrus scroll of enormous historical significance. Another project, at the Kyoto National Museum, concerns the preservation of the 15th-century Domaru armor, which was worn by elite warriors in the 1500's. And above all, one of our major projects this year was in France, at the Notre Dame de Paris cathedral, which was damaged in the devastating 2019 fire.
---
The Six Angels of Steel are also covered in soot, ash, and dust. It will be cleaned and the bronze patina restored.
---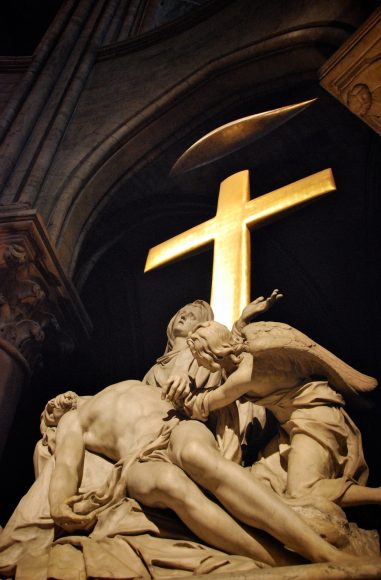 © Photo courtesy of "Friends of Notre Dame de Paris"
Our Art Preservation project highlights the ever-present need for conservation and preservation. In this way, we hope to help ensure that future generations continue to celebrate and appreciate these historic works of art.
How does Bank of America support the restoration of Notre Dame Cathedral in Paris?
SB: We provide financial support for the restoration of many of the cathedral's masterpieces. Conservation efforts focus on the three main Baroque statues, the Vow of Louis XIII, the six crucifixion angels and the choir floor.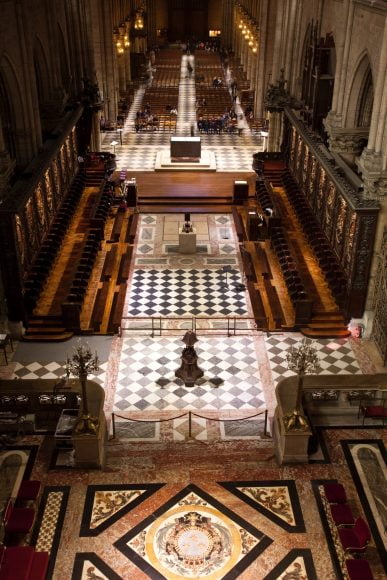 © Photo courtesy of "Friends of Notre Dame de Paris"
If you'll allow me a brief historical reminder, in 1698 King Louis XIV asked Monsignor Louis Antoine de Noel, Archbishop of Paris, to redevelop the choir of Notre Dame and dedicate the sanctuary to his father's devotion to the Blessed Virgin Mary. The work was completed at the beginning of the eighteenth century and was kept by Eugène Violet-le-Duc during a major restoration in the nineteenth century. In a disastrous fire in 2019, the choir was damaged, requiring urgent and extensive restoration before the cathedral reopens in 2024.
Restoration work also includes cleaning of the white marble statues of Vœu de Louis XIII, restoration of the bronze and final polishing. Created by Nicolas Cousteau (1658-1733), Guillaume Cousteau (1677-1746) and Antoine Coysevaux (1640-1720), the Baroque statues are not badly damaged by fire but are covered in soot, ash and lead dust. The Hand of Christ in the Pieta de Coustou (1723) is covered with crystallized lead.
The Six Angels of Steel are also covered in soot, ash, and dust. It will be cleaned and the bronze patina restored.
Finally, the choir floor and marquetry were severely damaged by several cymes (stones used to build the arches) fallen from the choir vaults. Thus, the restoration will include a complete cleaning of the floor, replacement of damaged and dilapidated multi-colour tiles, renewal of all inlay joints, restoration of the original patina and full polishing of the floor.
How does Bank of America support arts and culture in France?
SB: American bank He was an active patron of the arts and culture in France for many years. We have funded the restoration of important French artwork, partnered with French galleries, and loaned works from our private collection to the institutions free of charge.
In 2021, at the Center Pompidou, we were the main company supporting the first retrospective exhibition dedicated to Georgia O'Keefe, "Mother of American Modernity". This pioneering artist's work is drained by nature and our relationship to it. Our support has enabled the Pompidou Center to offer an unprecedented artistic and cultural education program to engage young people from disadvantaged neighborhoods in Paris. Designed for 400 students, this initiative is the largest educational program ever organized by the university Pompidou Centre. She encouraged students to be interested in gender, diversity, and environmental issues. In the past, we've also sponsored Roy Lichtenstein and David Hockney's highly successful retrospectives at Pompidou Centreboth of which drew record crowds and also included outreach programmes.
In addition, American bank He was the main sponsor of Leonardo da Vinci's exhibition Louvre Museum in 2019, which attracted over a million visitors, making it the museum's most popular exhibition to date. At the same time, we have supported the Louvre Pilot Education Access Program, which will encourage hundreds of underprivileged young people from all over Paris to visit the exhibition for free.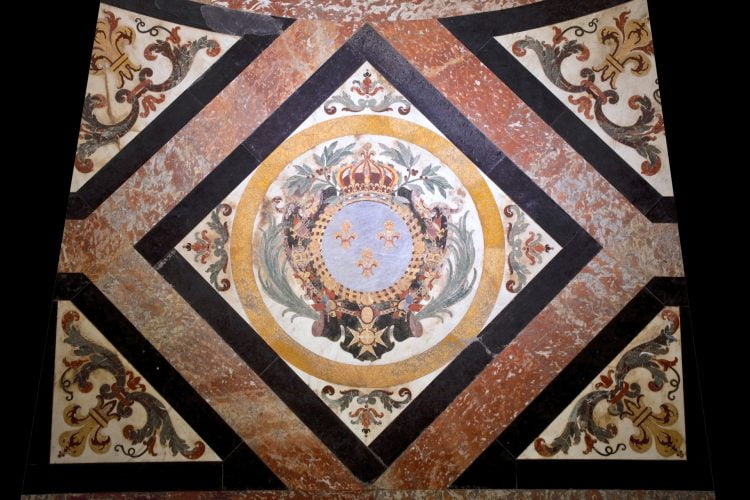 © Photo courtesy of "Friends of Notre Dame de Paris"
Finally, we have been very active in France with our Art Preservation Project. In addition to the triumph of Samothrace at the Louvre and Notre Dame de Paris, we have supported the restoration of works of art in the Musée d'Orsay, the Musée National Picasso and other French institutions, as well as the iconic works of French artists, such as ManetAnd the Renoir And the Cezannewhich is part of permanent collections abroad.
<< Also for reading : Notre Dame de Paris: four finalists to reinvent the cathedral setting >>>

free-paypal-25-rewards-store
get-free-paypal-money-in-2022
free-paypal-money-19-legit-ways-to-get-paypal-wealth-of-geeks
earn-free-paypal-cash-with-grabpoints-get-paid-instantly
how-to-get-free-paypal-money-fast-the-ways-to-wealth
12-easy-ways-to-get-free-paypal-money-fast-in-2022
earn-free-paypal-money-in-2022-idle-empire
thepayee-free-paypal-money-apps-on-google-play
5-real-ways-to-earn-paypal-money-today-youtube
free-100-paypal-money-instantly-free-100-paypal-code-2022
22-easiest-ways-to-earn-free-paypal-money-instantly-2022
paypal-money-generate-apk-download-2022-free
earn-free-paypal-gift-cards-for-doing-online
free-paypal-money-38-legit-ways-to-get-free-cash
free-paypal-money-codes
16-fastest-ways-to-get-free-paypal-money-in-2022
earn-free-paypal-money-free-paypal-cash
free-paypal-money-14-ways-to-earn-and-redeem-paypal-cash
earn-free-paypal-money-in-2022-freeward-blog
30-easy-ways-to-get-free-paypal-money-instantly-2022-moneymint
free-paypal-money-19-legit-ways-to-get-paypal-cash-instantly
13-best-ways-to-earn-paypal-money-fast-in-2022
paypal-promotions-on-money-transfer-of-december-2022
paypal-send-shop-manage-on-the-app-store-apple
free-paypal-25-rewards-store
card-free-paypal-gift-of-750
get-free-paypal-gift-card-new-codes-2022-pinterest
earn-free-paypal-cash-apk-android-app-gift-card
free-paypal-gift-card-generator-2022-no-survey-no-verification
pdf-free-paypal-gift-cards-giveaway-g789h-joinup-eu