welcome to

2023 Pinkbike Sports Clearance Bag

. This anonymous survey is designed to help highlight key issues affecting the professional field and elite competition. We interviewed the world's best cyclists to hear their thoughts, ideas, concerns, and reviews about mountain biking in 2023, all in an anonymous format. Click here to read the introduction to the survey and to view all other posts currently

groups

Click articles here.
---
Mountain biking has always been a male-dominated sport, and thus images of professional cyclists often do not provide a full representation of women's perspectives and opinions. Female participation in mountain biking has undoubtedly increased dramatically in recent years, however, the female competitive side of the sport is still less developed than the male one. In this survey, 58.6% of the runners were male, while 41.4% of the participants were female (that's 2% more than last year — whoa!). This article looks at data from these 63 professional runners, who gave us their thoughts on the state of the sport.
---
The majority of women surveyed feel they have experienced sexism in sports
Only 25.1% of professional women say they have not experienced sexism in mountain biking. It's pretty dismal, we think it's up 5% over last year. The numbers tell us that the majority of professional mountain bikers think this way you have Experienced with sexism in sports.
Women want their girlfriends behind the scenes
We asked these women what they would like to see in mountain biking to make it more inclusive for professional mountain bikers. We got a great mix of responses.
Women want to see more of their gender represented not only in the gates, but also on the field as part of the fabric of the industry. Female commentators, guides, mechanics, and crew members are desirable, as are women on factory teams and working on the World Cup circuit. Women want to see their peers as mechanics, team leaders, and sponsors. One survey respondent also mentioned the need to educate reviewers on how to talk about math, as well as the need to educate brands on how to celebrate math. without sexualizing it in their marketing.
For indoor cyclists, more opportunities are being sought for women to run their own program, rather than having to join a team. In general, women feel that sponsorship money seems to be available for higher ranks, but they don't seem to move up the ranks. Some of the women also mentioned that it would be great to see the women's final as a "grand final" as opposed to the men's. Women find that their events are scheduled earlier, noticing that this gives them much lower turnout and attendance than men, thus fueling a cycle of less exposure and lower pay.
Speaking of which, professional women say there is a pay gap (and they're right).
More than half of the women surveyed responded "strongly agree" to the statement, "There is a gender pay gap in mountain biking." 30.8% answered "OK," bringing the total number of approved answers to 83.1%. 12.3% were neutral, 3.1% opposed, and 1.5% strongly disagreed. They estimate that they earn 30-50% less than their male counterparts, and our comparison chart proves it.
To the question "Is mountain biking your only income or do you have to have another job to support yourself?" , 47.62% said it is. However, for more than a third of the women surveyed, less than 20% of their salary is guaranteed, with the remainder made up of prize money and other rewards. About 24% of men say about 100% of their salary is guaranteed, compared to only 13% of women. 18 women declared a salary in the 60-80% bracket, compared to 29 men.
Most women want to go through the same cycles as men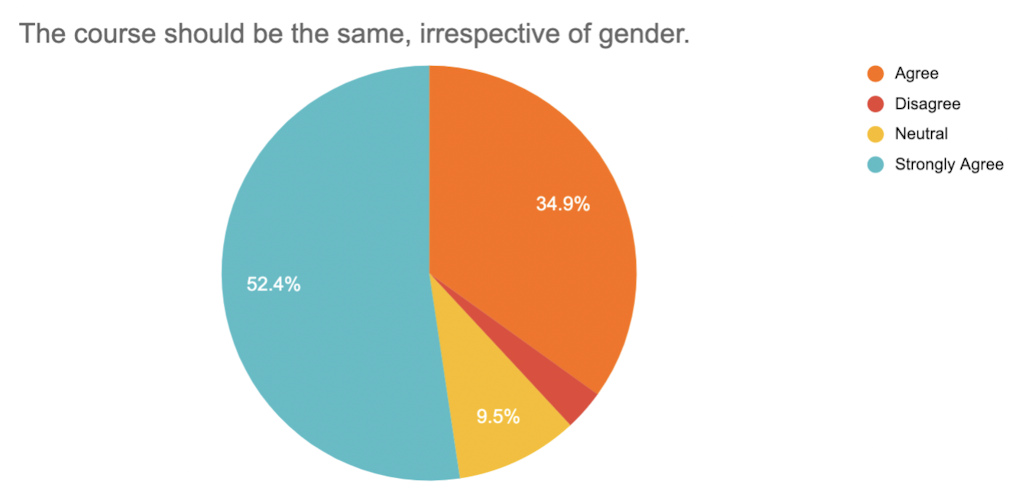 In response to the statement "the course should be the same regardless of gender", 52.4% strongly agreed, 34.9% agreed, 9.5% answered neutrally and 3.1% disagreed. Nobody strongly opposes it.
The vast majority of women surveyed believe that men and women should run the same courses. Many of them believe that in order to promote equality and respect for women, it is important to understand that, despite their physiological differences with men, women who are professional athletes are very capable and can compete in the same tournaments as men. Women's mountain biking is growing rapidly as more opportunities are available to women and the sport further develops. Big jumps and bad spins seem to be here to stay, which is exactly what most women want.
In general, the women who took the survey realized that changes were being made in the industry for the better. Being able to race on the same tracks (86% of outsiders voted for men and women to race on the same track) was celebrated for bringing clarity and credibility to female runners. There is a desire for more women's events to bring more women into the sports and racing arena so that the field of competitors grows and justifies paying equal pay to today's professional (and perhaps still semi-professional) runners.
Women are very competitive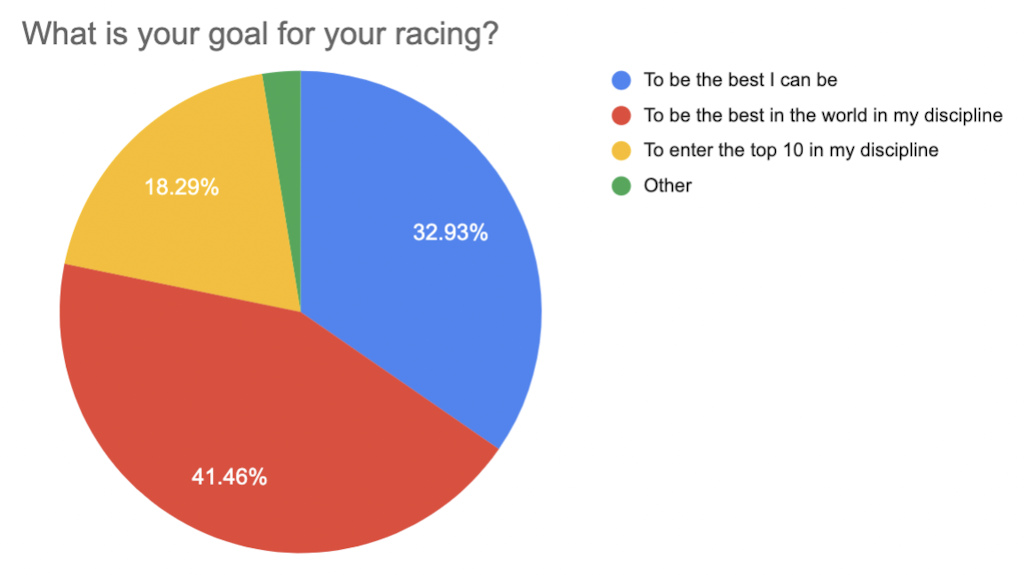 Women also have fierce competition, with 41.46% not only wanting to be the best, but the best in the world. Globalisation in their specialty. In the end, there are fewer women on the starting line, which leads to smaller fields. 73.3% of women would support legislation to diversify the professional field, such as a UCI elite staff that includes at least 2 of the following: male, female and junior.
Many of the professional women we interviewed seemed to want to be judged based on their competitive score, rather than their social media following or other metrics. We saw similar reactions from the men in the survey. It's important to realize that the competitive landscape of mountain biking is fueled by brands that want to sell their products, and that riders and brands don't always drive the same things. Brands that hire competitors to sell stuff will always be at odds with competitors who feel their only job is to compete, regardless of gender.
Only two women surveyed felt their sponsors valued feedback from product testing, with media coverage of events, consistent results, and an active social media presence being valued the most.
Women for unions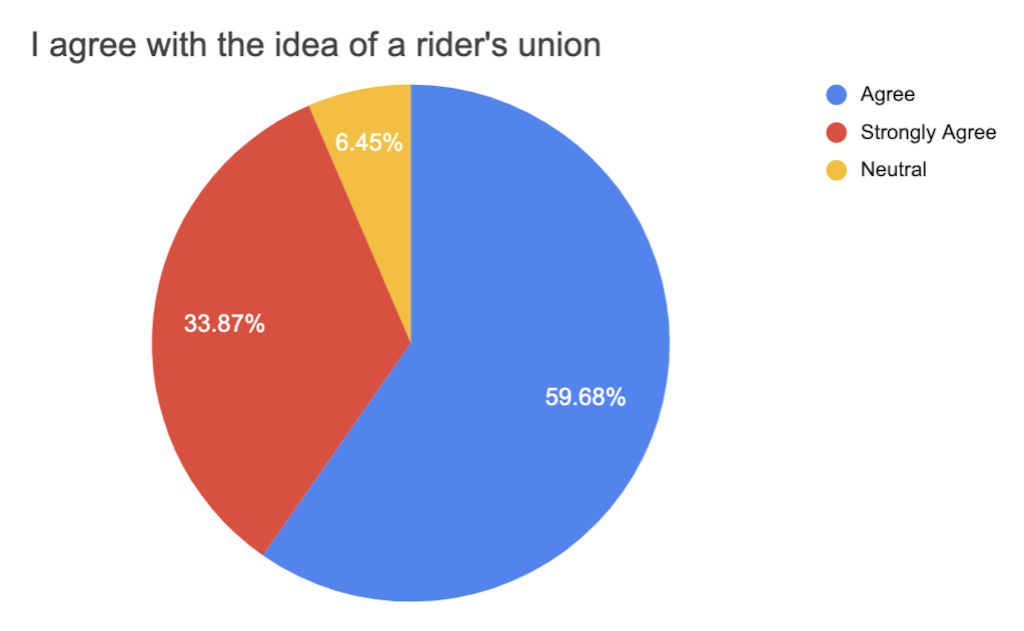 93.5% of the women surveyed agree with the idea of ​​a knights union, while 81% of the women believe that a union would be beneficial to their interests. 79% of all women also believed that every discipline should have an independent riders' union, 59% of women agreed or strongly agreed that the riders' union was a direct response to the UCI's lack of support, communication and transparency and Discovery (37%) was neutral, by 4% have just been exposed to it).