The whimsical Mill Creek Ravine Winter Lighting Festival will also include the Indigihauz Gayla drag show and a three-part relay with Buck Axes and Saws.
Reviews and recommendations are unbiased and products are selected independently. Postmedia may earn an affiliate commission on purchases made through links on this page.
Article content
From near extinction to conservation success, the story of domesticated bison will be illuminated in a new exhibit at Volant de Kano en vol. Edmonton's Winter Festival kicks off on Wednesday and runs from February 1-4 at Mill Creek Ravine and La Cité Francophone.
Article content
While many aspects of the festival are consistent year after year, the organizers always make sure that there are surprising elements for guests: rotating musicians, new installations and new additions to the programme. This year's iteration includes Portage Relay on the Prairie, Native Camp Dancers, Drag Show, Indigihauz Gayla, and Lii Buflo: The Métis Way of Life.
Article content
The latest exhibition combines art and storytelling to convey the story of the northern Alberta bison, known as "lii buflo" in the northern Métis Michif language. In the early 20th century, the population was nearly wiped out, but successful conservation efforts over the past century have brought the animals back from the brink of extinction.
Article content
Ten double-sided interpretive panels inform viewers about Métis culture, hunting techniques, and traditional uses of the bull. One side features panoramic murals by Métis artist Jesse Gouchey, while the other has text in English, French, and Northern Meshev.
"This was the first major project I launched within Parks Canada and I was really keen to build on Parks Canada's mandate to support truth and reconciliation in heritage work," said Jessica Borello, Elk Island National Park Public Outreach Officer.
Lii Buflo is produced by Parks Canada and the St. Albert Arts and Heritage Foundation, in association with the Métis Advisory Committee.
"I'm not Métis, so as a project manager, I'm very aware that this is not my story to tell," says Burylo.
Article content
With the Flying Canoe Volant focusing on the intersections of First Nations, Métis, and French Canadian culture and traditions, the show is a perfect fit for the event and has been a #1 travel destination since opening in June. Louis. Grain Elevator Park.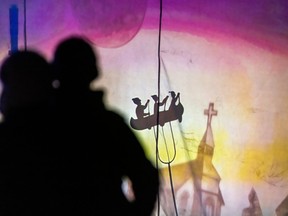 "It was really clear from the beginning that we shared our values," Borello says, noting the intersection of these cultures. "So it really is a collaboration made in heaven."
The Flying Canoe Volant will offer another cultural richness this year: dancers performing their Aboriginal camp costume at the festival. Along the way, on winding paths in a gorge, guests will experience the festival's signature lighting installations created by Dylan Toymaker. Each year, the artist creates a collection of delicate lanterns that light up the aisles for the festivities. The playmaker was among 20 grant recipients recently recognized by the Edmonton Arts Council.
Article content
"It's all an original work," says Daniel Cournoyer, festival producer and general manager of La Cité francophone, where many of the festivities take place. "It's not a hallway with Christmas lights."
Cournoyer has spearheaded the event for the past decade, and although it has found its groove and welcomes up to 60,000 people annually, no two years are the same.
The return of the Edmonton Skate Club's sailing regatta, a highlight of the festival, has been postponed for another year. Instead, the organizers created Portage on the Prairie, a three-part sequel to canoe hauling on the plains and ax throwing and sawdust at Rutherford School.
How do we reinvent winter year after year after year? Cournoyer said. "It was the magic of the flying boat."
Article content
With a wide variety of activities, there is something for everyone, from families to groups of friends and couples. People can enjoy festive treats like whiskey and maple candy while warming up in front of an open fire at La Cité francophone. Families can enjoy the Youth Zone on Feb. 3 and 4, from 6pm-9pm, while adults can head to the Servus Credit Union Theater for the new show Indigihauz Gayla on Feb. 1 at 7:30pm. Night Feb. 2-4, 7 :30 pm to 12 pm
The warm and light atmosphere of the festival is a beacon in the midst of our long winters.
"People say it's magic, it's like Narnia down the valley," Cournoyer says.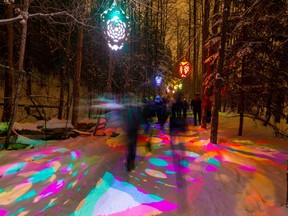 To the brave participants of an outdoor winter event in the nation's largest northern commune, Cournoyer shares a wise maxim: "Dress appropriately and keep moving!"
yegarts@postmedi.com
insight
Kano flies in flight
where francophone city (8627 Mary Ann Jaboury Street (91st Street)and Mill Creek Ravine (find location map
when February 1-4
tickets Donations are accepted but admission is free